I took the Charger to a restoration shop to get the major bodywork done.
I rented a trailer and my brother and I drove for 6 hours to get it there.
Here's what it looked like all wrapped up and on the trailer.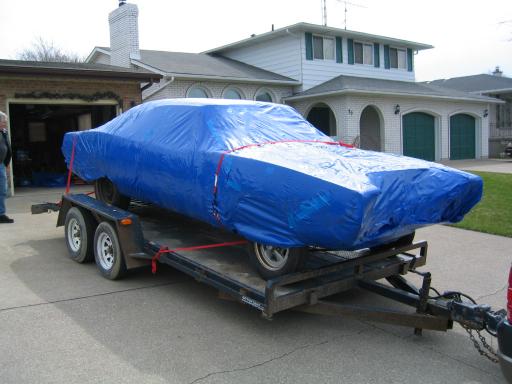 I got some shrink wrap similar to what they use when they deliver new boats and covered the car with it. It worked well. It stayed on and didn't flap in the wind even at highway speeds. It also kept all the crud inside the car.
We had a pretty good drive and got a few thumbs up along the way.
We saw a few MOPARs along the way as well.
We dropped the car off at the shop and went over it with the owner. Agreed about the plan of attack, did some paperwork, and then hit the road to get home at a reasonable hour.
They got to work pretty quickly on it. There's some nasty rust in some of the usual places. There's nothing that I didn't expect, so far. The shop owner is very surprised at the condition of the roof, the hood, the rockers and the rear window. All are very solid and will come out real nice with little effort.
Here's some shots of the work so far.
Passenger side rear frame rail.

This is pretty solid up until the last 18 to 20 inches.

We'll patch in a tail piece.

Driver's side rear frame rail.

Just as bad on this side.

Driver's side rear frame rail.

Close up of passenger side rear frame rail.

Swiss Cheese-like.

Driver's Side wheelhouse.

We need a new outer, but the inner can be saved.

Back of driver's side rocker.

Lots of filler came off of here. A patch will be fabbed up to fix the rocker. The new quarter will cover the patchwork.

Brother, can you spare a quarter?

Driver's side quarter skin was full of mud. We'll need to put a new one on.

Driver's side wheelhouse.

Again the inner can be saved, but we need a new outer.

Driver's side rear frame rail and bumper support.

We'll need new bumper supports on both sides.

It still looks good.

Even with all the rot cut away.

Driver's side rear frame rail and bumper support.

Passenger side rear frame rail and bumper support.

Passenger side inner wheelhouse.

Looks pretty good and will be saved.

Driver's side inner wheelhouse

Looks good too and will be saved.

The original body colour.

F8 Dark Green Metallic can be seen all over the car where it hasn't been painted over, but this is the most complete coverage I've seen so far. Most everywhere else is just overspray.

Passenger Side Rocker panel

Needs some patching.

Passenger Side Rear Frame

CRUNCHY!!!!! I've got a new one on order.

Driver's Side Rear Frame Rail

New one is on it's way..

Driver's Side Shackle Mount

Is just fine.

Bumper mount

New pair is on order.

The replacement package shelf